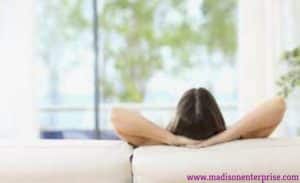 Working while on my couch is alright with me and that is why I do this at Madison Enterprise LLC which is a phone sex company that I work at as an independent contractor.  I work as a PSO, which stands for phone sex operator.  Phone sex jobs have been around for a very long time and so have phone sex operators but phone sex work at Madison Enterprise LLC is the place to be.
Sometimes I put on a movie from one of my favorite channels and I watch it from the comfort of my own couch and when a call comes in, I simply pause it until the call is finished.  Or, if I choose too I can log out for the entire time for the duration of the movie so I could watch it with no interruption and then I log back on afterwards.  Whether it is raining or snowing outside, I can stay in my house, in my PJs, in my couch or my bed and make money from the comfort of my own house. My family and friends have to venture out to their jobs in the midst of a pandemic, exposing themselves to the elements and I am safely tucked away at home.
This job is just so wonderful and I am very good at it and I sometimes wish I started sooner rather than later as this is what works for me.  Now. don't get me wrong, this is not my first job but it is the first one where I have total freedom to decide my hours, my schedule and my days off without all of the drama and the permission slips that would ordinarily come with what would happen if I was working in a job at a company in person.
It really does make a difference when you work at a female owned company, for me it makes a real difference in the atmosphere.  They are female just like me and they can relate to me and I think that suits me just fine. And the callers who reach out to speak to me are not exactly dull and boring, it is always a nice treat every single time that I pick up the phone because I never really know what type of roleplay that I am going to get that day.
The fun is to create exciting and new scenarios every single time so that whenever we play it is a new experience every single time and there are those however, who like to recycle old sexual scenarios. I love the way this job enables me to be creative and it can also be challenging at times in a great way, because I can explore with the caller things that were never tried before.  If you are ready to enjoy this job as much as I do then apply today, it really is very simple to sign up and start working right away.  This is the link to click: https://www.madisonenterprise.com/apply
Madison Enterprise
1-888-430-2010
Click WORK FROM HOME CHAT to chat with the phone sex operators!
 #pso #phonesexoperators #adultphoneline #selfemployed #phonesex #sexhotline #makemoneyathome #femaleowned #psowork #adultentertainmentindustry #workfromhome #kinkphonesex #workingfromhome #madisonenterprises #phonesexoperatorwork