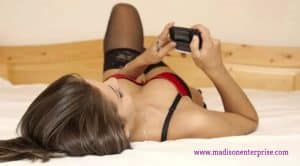 I was perusing the internet looking for ads that asked readers if they are interested in learning how to become a phone sex operator which is something that I could do from the comfort of my own home and I found an application online by clicking this link and I applied right away: https://www.madisonenterprise.com/apply/. It was fast, quick and easy and I only did it because of all of the things that I read online about the company and it lined up with exactly what I was looking for.
I used to work as a phone sex operator in person in an office and it was crazy because I had the midnight shift or as others say the graveyard shift and I would have to leave my house at night to take a train to get to this job.  Though I enjoyed the role I was doing as a phone actress, it really was not safe for me to take any form of public transportation to go anywhere that late at night. And taking taxis were not economically feasible either because of the far distance that I lived away from that job, those taxi rides would quickly add up.  I enjoyed it but it was not convenient in terms of distance.  I also am a bit of an introvert and a tad bit antisocial and I prefer to not mix and mingle in person at work and I prefer to talk to people on the phone.
This is why when I found out about Madison Enterprises LLC it was the perfect role that I was looking for because I don't have to leave my house to go anywhere, I can work at my house and most of the time I work in bed all day and only step out of it to shower, eat and use the bathroom. This  female-owned company is so ideal and so amazing that I wish that I knew about this amazing company before and I am so happy that I found out about it as it is truly a one of a kind place to work – and you are working at home!
Whether you call yourself a "Phone Actress" or a "Phone Sex Operator" does not matter, what matters is that you need to give this job a try for yourself to see how amazing it is. If you are creative and fun and enjoy talking to people over the phone, you need not delay any further and apply right away.  And this is a self-employed role so you decide how much you make based on how many callers you are logged in to connect with.  Own your future by working a non-conventional job that enables you to get rewarded for how creative and fun that you are.  All you have to do is to make the first step and try, you can do it. Sign up today and enjoy working at a place which can be anywhere you choose in the comfort, safety and convenience of your very on house. Apply link: https://www.madisonenterprise.com/apply/
Madison Enterprise
1-888-430-2010
Click WORK FROM HOME CHAT to chat with the phone sex operators!
 #pso #phonesexoperators#adultphoneline #selfemployed #phonesex #sexhotline #makemoneyathome #femaleowned #psowork #adultentertainmentindustry #workfromhome #kinkphonesex