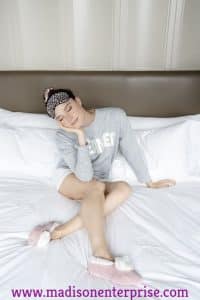 Ok, I admit it – I am a little lazy where I don't want to get up every single day and get myself ready to go into an office environment to have to work with a bunch of phonies.  Who the hell has time for that? I surely don't.  But, I love to make money and I make lots of it in my bed, rolled up under the covers speaking to callers while working for a female owned company called Madison Enterprises LLC.
I don't think you have any idea the fun, pleasure, ease and convenience it is to work from my bed.  The fact that it does not matter if it rains, shows, hailstorms or floods – it is not my business what the weather is like and I don't really care because I don't have to leave my bed at all to go outside to get paid.  So the rain can rain all day and it does not have to go away because I will be in my nice, warm and toasty bed underneath the covers while speaking to callers from all over the globe while I make money.
I mean – who wouldn't want to make money while working from home as a phone sex operator where you are safe and sound in your own environment – which is your very own home.  That is just the ultimate as no one will ever know if you have morning breath or if you have a bad hair day or if you are wearing a torn t-shirt with ripped pajama pants.
This is just the best place ever to work and the people who work here are so amazing, king and super helpful.  A lot of times you are already speaking to people already in your life over the phone and they probably drain you and they have nothing at all interesting to say and these people are your friends.
Why not put all that gift for gab that you have to good use and use it to sign up today to work as a PSO for one of the best companies in the Adult Entertainment Industry.  I am so happy that I decided to work here and I only wish that I had done this sooner.  It would have saved me years of travel expenses, and a wardrobe budget that I had to blow through ever so often when I worked in an office and I had to keep wearing a bunch of expensive suits while I was working at an office.
Make the same great decision that I did and sign up today to work at Madison Enterprise LLC today and you will see why I am so happy that I made this amazing decision.  I love what I do and when you love what you do it shows – in essence it never really feels like you are working, but it feels like you are having a jolly ole time! Try it out today and don't delay – it is time that you became the independent worker that you were always meant to be.
Madison Enterprise
1-888-430-2010
Click WORK FROM HOME CHAT to chat with the phone sex operators!
 #pso #phonesexoperators#adultphoneline #selfemployed #phonesex #sexhotline #makemoneyathome #femaleowned #psowork #adultentertainmentindustry #workfromhome #kinkphonesex