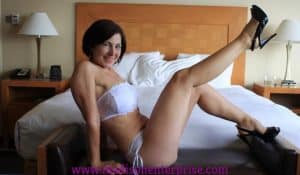 I am naturally sensual and sexually free and has been very difficult for me to have to suppress the sexual side of me when I worked in various companies doing their boring office jobs. I remember that I had to suppress this side of me and it was absolutely awful! I had to dress like a nun – more or less in order for me to have to follow the company's dress code that was insane.
My shirts had to be bland and boring and my skirts had to be pass my knees and in terms of shoes, I had to make sure that my toes were covered in closed toe shoes.
This is why I am happy that I escaped that life and started working as an independent contractor for Madison Enterprise LLC as a Phone Sex Operator.
I really enjoy working from home and I can wear whatever I want and if I want to not wear anything at all and stay completely naked in my bed all day and talk to callers, it is absolutely amazing.
I love what I do, it is so empowering and I get to be creative and roleplay all of the sexiest of fantasies and actually get paid for it is the best ever. There are so many people who are unable to experience special role play fantasies in their regular lives and live miserable and sad lives.
This should not be the case when I am on the other side of the phone line waiting to make all of your role play dreams come true.  It is not just me that wants to make you happy, all of the PSOs work very hard to make your phone calls very special and unique.
I am so happy that I am able to work at a company where I can be sexually free.  The more creative I am the better it is for me and my callers.  What I love most about working for Madison Enterprise LLC is the great team that works there.  All of the Phone Sex Operators are absolutely amazing and they are amazing at what they do.
And the fact that this is a female owned company makes it the icing on the cake and that means that they can relate to all of us women wanting to maintain our independence as self employed individuals.  This company is so very supportive and the staff is the absolute best around.
This is where I am so happy to be and I don't even have to get up early if I don't want to because I am the one that sets my own schedule and this gives me the work/life balance that I need. If I want to take a day off or two to lounge around my pool r have a day at the beach or walk about the mall – all I have to do is set up my schedule for specific days off and I can have fun.
How wonderful it is to have this kind of freedom. I absolutely love it here and you will too and getting paid every single week is also an added perk, I don't have to wait two weeks to get paid like other jobs. This was the best decision that I have made working independently for a female-owned company called Madison Enterprises LLC. You should check us out and also work here to – apply at this link: https://www.madisonenterprise.com/apply/
Madison Enterprise
1-888-430-2010
Click WORK FROM HOME CHAT to chat with the phone sex operators!
 #pso #phonesexoperators#adultphoneline #selfemployed #phonesex #sexhotline #makemoneyathome #femaleowned #psowork #adultentertainmentindustry #workfromhome #kinkphonesex