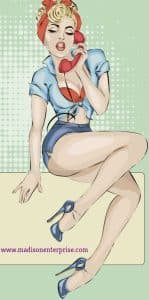 That's right… use your voice.  You can use your voice to make extra money.  And of course, that healthy imagination of yours as well.  Become a fetish phone sex operator for Madison Enterprises and start making that money now.  All you need besides that sexy voice is a phone and a computer and you're all set to join the family.
Imagine getting paid to stay home and use your voice and kinkiness to make others ejaculate.  Getting paid to make people cum and enjoying it too.  Talk about a dream job or at least a fantasy job.  All fetishes are welcome, and you will definitely get to use your knowledge to make others pay to play.
You can make your own schedule and work whenever you want.  You can choose from a variety of mommies and diaper girls.  And through your character you can escape reality and go wild for a while.  No one will know who you really are, all play is discreet, and nothing is taboo.
So, embrace your kinky side, let your freak flag fly.  Shed your everyday persona and become anyone you desire and make money all while doing it.  Start today and build a clientele and start seeing that money roll in every week.  Call 1-888-430-2010 and speak directly to the dispatcher for more info and details.
You can also apply online and get started as soon as possible.  Jump aboard the money train and start making your own.  And all just for using your voice to get others off.  It's definitely not boring, that's for sure.  The sex industry is a fruitful business, so join now and reap the benefits.
Come on, you know you're curious.  And all from the privacy of your own home and no traffic to deal with, commuting back and forth.  You don't even have to leave your comfy bed if you so choose.  You can wear anything you want, and no one is the wiser.
If you have ever been told you have a nice voice, or that you have a dirty mind, then this is the perfect opportunity to earn income from your attributes.  And enjoy yourself all at the same time.  Give it a try and see if it's for you.  You won't be disappointed.
Madison Enterprise LLC is a female owned and operated business.  Everyone here will treat you like family and all are very generous with their time if you have any questions or issues.  There are many sites that we are involved with, and you will utilize them to build up your clientele.  So, take the leap and enjoy yourself in the process.
Stay home, make money.  What doesn't sound good about that?  No strings, no catches, just money to be made.  And naughty fun to be had.  If this sounds good to you and you're interested in trying something new, then get started and become a phone sex operator in the adult entertainment industry now.
Let yourself have fun and make money all at the same time.
1-888-430-2010