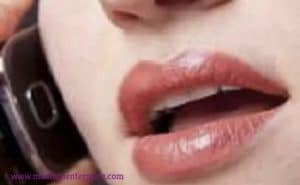 Have you been told you have a nice sounding voice?  Or a sexy voice?  If so, then this is the perfect opportunity for you to earn some extra cash.  Use your sultry, husky, or cute voice to your advantage and make some money while you do so.  Being a phone sex operator for Madison Enterprise let's you do just that.
You just need a phone, a computer, access to the internet, a great imagination and your voice.  Then contact Madison Enterprise either through this site or any of it's affiliated sites, directly from the internet or by calling their toll free number.
It's easy as 1,2,3 and you will be all set up to bring in clientele and start seeing the money roll in.  You will do private sessions either via text in their chat rooms or through calls.  The dispatcher handles all processing and connects the caller to you, so you can fulfill their fantasies and fetish desires.
All you have to do is satisfy the customer and fill out your call log.  You will be walked through everything that is required by you as an employee, from spread sheets, to the chat rooms, to your schedule.  And with this company you are your own boss and you make your own schedule.
And this job is so convenient you can do it all from the comfort of your own home.  No stressing about traffic and long commutes, no cramped office cubicles and no annoying co-workers.  Everyone at Madison is very generous with their time, so if you have any questions or issues, just let them know and they are quick to assist.
Madison Enterprise is a female owned and operated business.  Being a part of an adult entertainment industry gives you a chance to put that naughty mind to use.  Let your kinkiness show, let your freak flag fly and have fun all while doing it.  You are an anonymous person playing a character.  Put your acting skills to the test.
No hassle, no drama, just pleasure.  You are providing a service and giving others an outlet to enjoy.  Helping people get satisfaction, whether through role-play, fantasy, fetish curiosity or just someone to talk to.  Your clientele will build as you go, and you will start to see the money flow.
You can choose to do this part time, full time or all the time.  You choose what days and what hours you want to work.  Show pride in your job and make the effort to learn your character, and as you continue in this field of work, you will learn about the world of fetishes as well.
Give the caller what they want.  Make them want to call you again and again for their needs.  Like any job, you want to be the best.  And it doesn't get any easier to be the best then being able to work from your own home wearing anything you want with no pressure and no distractions.
Wait no longer and apply today!
1-888-430-2010