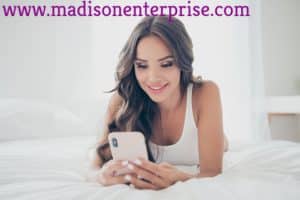 I always hated getting up early to an office job, but I did it because I had no choice. The stupid stuffy suit that I had to wear to work ,then get on my knees to sort through a bunch of dusty files and take minutes in a meeting all sucked.  It would not take long until I would be fired and that was not a shock for me as I hated being  that kind of an environment.
I did what I had to do because I thought that I did not have a choice.  But today, I am so happy that I finally found out what I was missing and what I needed and it is working at Madison Enterprise LLC as an PSO – which in other words means a phone sex operator.
I can be lazy as ever and stay in my bed and never leave all day and talk to on the phone.  I don't have to get all dressed up in a stuffy suit, get my hair done, leave my house or put on a phony smile in front of silly colleagues because in my house is where I am and it is exactly where I want to be.
I watch the news between calls and I see all of the rules and regulations that people have to follow and all of the politics that come with working in a traditional work environment and I have no interest at all in being involved in any of that nonsense.  All I care about is being as lazy as ever – talking on the phone directly to men all from the comfort of my bed while I am cuddled up underneath the covers.
I highly recommend this job for all those who are just like me because you are an independent contractor, you will work for a woman-owned company and you can set any hours that you want.  So, waking up at the crack of dawn – if it is not for you and you are a night owl – all you have to do is set your schedule for nights to work and that's all you need to do and the money will be rolling in.
Aren't you tired of the same thing – the same old conventional job with all of the nonsense that comes with it? Then do what I did as a lazy person and try something different for a change.  Give Madison Enterprise LLC a try and see how wonderful it is to be in charge of your own career and make your hours on your own terms.  Try it today by clicking on this link below https://www.madisonenterprise.com/apply – you will be very happy that you did.  The atmosphere is absolutely perfect an can't get any better – after all it is your own bed that you rest your head on at night and gall asleep and now  you can stay in it while you take calls and talk to some amazing clients from all over the world.  So wait no more and give Madison Enterprise LLC a try.
Madison Enterprise
1-888-430-2010