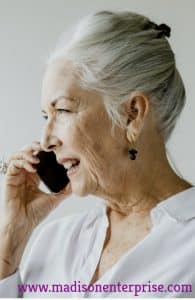 Are you retired and bored at home and don't know what to do? Become a PSO, and take matters into your own hands by working from home for a female-owned company.  When people think about the title that reads, Phone Sex Operator it is much more than the name.
This is a job that is done from the convenience of your home so you don't have to worry about getting all dolled up.  You can get out of bed and remain in the clothing of your choice, log into your PC or phone and take calls.
The urge to eat lunch or use the bathroom without worrying about who will need to sit at your desk for coverage is no longer a factor.  And don't you just hate it when you go to work to do your job when coworkers in the past would stop by your desk and gossip about what was going on in the job and if you could care less and just want to do your job without the drama?
At Madison Enterprise LLC you won't have to worry about that.  The team of amazing ladies are professional, mature, smart and friendly and understand that this is an amazing place to work with  great people.
Remember when you used to read all those romantic novels in the past when you were bored and got a lot of sexy thoughts and ideas and you were not exactly sure how you should apply them?
You can use a lot of those thoughts and ideas to put it to play when clients call you to roleplay a variety of scenes with them.  A PSO is essentially a phone actress and the world is your oyster with what you want to roleplay with your client.
Though roleplay is a major part of the calls that you may receive, a lot of clients may be lonely and want to talk to a phone friend.   Having compassion and understanding is a big part of the job as a PSO as you need to be able to listen and understand your callers.  Make sure that you pay attention to a client that is calling to speak to you.
Doing chores, running on a treadmill, eating or even taking a shower when your client is on speakerphone is not good as you need to give your caller 100% of your attention.  If you want to understand what that means, just imagine that you are a patron at a restaurant and the waiter ignores you most of the time when he/she tends to the other patrons.
That would not feel good at all and that is understandable because no one wants to feel like a second-class citizen.  In other words, treat others with how you would like to be treated.  So provide the client with their request and make them feel special and a one time client can turn into a client of a lifetime. Click this link and apply today: https://www.madisonenterprise.com/apply/
Madison Enterprise
1-888-430-2010
Click WORK FROM HOME CHAT to chat with the phone sex operators!
 #pso #phonesexoperators#adultphoneline #selfemployed #phonesex #sexhotline #makemoneyathome #femaleowned #psowork #adultentertainmentindustry