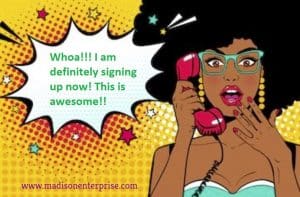 I am totally amazed, flabbergasted and excited!  I just found out that Madison Enterprises LLC is hiring PSOs.  This is so amazing and I cannot wait to apply.  There are so many great things that will happen once I do this and I really don't even know where to begin. I mean first off, I don't have to rely anymore on my gentleman friend to give me money for things that I want and need.  I have been waiting for an opportunity like this to be independent and to make my own money and I am so happy that it is here! Whoa! Making my own money while working from home? It can't get any better than that.
I can record the shows that I want to watch on television and between calls I can catch up on them.  I can make my own schedule with what works for me and if I want to do a mani or a pedi that day – my schedule is set so I can go and come as I please.  I don't have to worry about wasting unnecessary money to buy a bunch of stuffy suits to sit in a person's office all day dealing with a set of rules and regulations about how I should dress or how I need to wear my hair. I don't have to attend those phony company parties at the end of the year to mix and mingle with folks who are just smiling to do it but they really don't mean it.
I don't have to take the smelly and unsafe train or bus to get to work or jump into a taxi and deal with it smelling like a sweaty driver used it as his personal sauna either.  I can do things on my own terms and make my very own money! I also get to be the best actress that I can be by being a PSO.  Just because I have never tried something in real life doesn't mean that I can't pretend to try it out on my calls. So many people are so limited in their thinking that they believe that unless they have done something that they won't have any idea how to do it.
That is such a load of crock! Women have babies for the first time and are total pros at it – especially the ones who don't make it to the hospital on time and deliver the baby on the floor and they know what to do.  They are put in a situation that they have never been in for the first time and their natural instincts enable them to figure out exactly what to do. So, if that is such a major event in their lives, why would using their imagination and creativity be so foreign and far-fetched? It won't.
All it takes is believing in yourself that you can do absolutely anything at all that you put your mind to and once you have that in the bag, you will achieve and accomplish anything that you put your mind to.  Here is a chance to speak to callers from across all parts of the world and you can explore a variety of fantasies together. And, the callers who are lonely and just want to talk and need a friend – you are there for them.  The callers that have no confidence and need encouragement, you are there for them as well. And the callers that can't sleep and want to talk to someone while they naturally wind down – you are there for them as well.  In this role, you are needed, wanted and desired – regardless of if you have a bunch of makeup on, or your favorite wig or if you are bald, old and fat.
It does not matter because it is all fantasy and what better way do you know than to enhance your creativity than to speak to others to get a sense of what makes them tick. It sort of makes you an expert if you ask me.  You get to understand various sides of the equation and each time is a new lesson a new page in the book called life and the chapter of the book is called Fantasy Phenom. Yes, you are a fantasy phenom because you are able to take something from scratch and make it into a masterpiece or in this case a Mistresspiece!
So, own up to the sexiness that is within you and be the best Phone Sex Operator that you can possibly be. Own up to your truth – the sexiness is within you – so acknowledge that you are woman and let me hear you roar! Don't take your time, darling – race to that link where you apply and fill out your information clearly and legibly and wait to hear back from Madison Enterprises LLC.  In the meantime, feel free to read up on some erotica books whether online or in hard copy version in order to open up your mind to various fantasies and fetishes.
Have fun with this and why shouldn't you? Those who work at phone sex jobs deserve a bit of peace, happiness and financial security in your life.  Be your own boss and do it while working at a female owned establishment. The adult entertainment industry has been dominated by men for far too long and it is time for women to take a big chunk out of that pie and reclaim what is rightfully theirs.
A place at the table of independence – to be able to still be the mom, sister, aunt, granny, cousin, niece or friend that smiles when she touches the lives of others and is able to command a paycheck while doing it.  You can do it – there is no need to hesitate.  The time has come for you to be all that you can possibly be and you don't need to join the military to so it, you can do it right from your very own home. Pso jobs are what many do for their independence. So sign up today and do not further delay.  Click this very link right away – https://www.madisonenterprise.com/apply/
Madison Enterprise
1-888-430-2010
Click WORK FROM HOME CHAT to chat with the phone sex operators!
#pso #phonesexoperators#adultphoneline #selfemployed #phonesex #sexhotline #makemoneyathome #femaleowned #psowork #adultentertainmentindustry #workfromhome