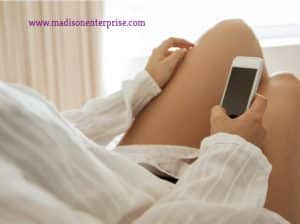 Do you have a phone and a sexy voice?  That's pretty much all you need to have an exciting career as a phone sex operator.  Oh. and of course, an active imagination is a definite plus in the business.  And you can achieve it all from the comfort and seclusion of your own home.
No fuss necessary, no hassle of a daily commute, no worrying about things at home, no boss breathing down your neck and no annoying co-workers.  All communication is either online or over the phone.  You get to pretty much be your own boss, you make your own schedule, you decide what to wear or what not to wear and you can do it all from the luxury of your own bedroom, if you so choose.
The ladies of Madison Enterprise are very generous with their time if you have any questions or concerns.  They are helpful and nice and making working for Madison Enterprise a joy.  You can choose to do this part-time for some extra spending money, or full time for a change of pace in job opportunities.
As you build a clientele, you will see the money begin to roll in.  Don't get discouraged at first, it takes a little bit of time to start seeing the benefits of being a PSO.  There are chat rooms and sister sites to troll for customers, you can also choose to write blogs and interact online to bring in the callers.
You can use your vivid imagination to entertain your customer's fetishes.  Get wild and let loose and enjoy yourself as you play.  No worries of being seen and judged for your actions or behavior.  You can do and say anything you want to give your caller the ultimate satisfaction.
So let your hair down and let that freak flag fly, this is your time to shine.  You call the shots, and you handle business.  You make the rules and if they don't follow them, you get to spank them and so much more.  Anything you can think of you can do.
If it has ever crossed your mind to work in the adult sex industry, or if someone has ever teased you about being perfect for this kind of work, then now's your chance to benefit financially from your kinkiness.  Why not rake in the dough from being a pervert or a sexually open-minded individual?
Have some fun and make money while you're at it.  And remember, you never even have to leave your house, none the less your bed.  Your greatest assets will be your voice, your mind, your phone and your computer.  Nothing else is required to be a phone sex operator for Madison Enterprise.
Just don't forget, if your scheduled, then you have to be available for calls.  So, make sure you schedule yourself correctly.  Contact this post directly through the apply section or call 1-888-430-2010 and get started today.  The dispatcher is always available to consult with you.
Come join the family!
1-888-430-2010