Pick the best adult niche to boost your business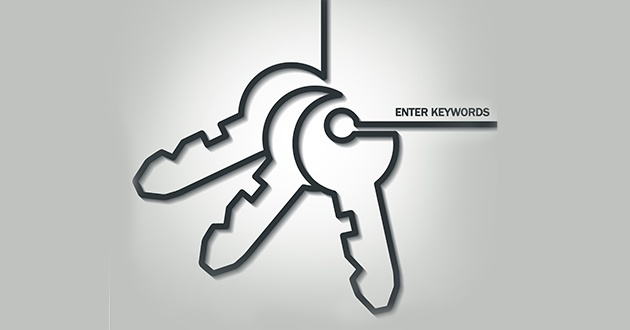 Pick the best adult niche to boost your business
We often receive questions from our (potential) webmasters how they can start a successful business as an affiliate in the adult industry in general and within our live sex cam business especially. Our answer is mostly that they need a site that preferably already has traffic or that they have to put effort into getting traffic.
But we also thought about what we can do to help our partners getting started. And one of the first things you should do is to select a specific niche which has the potential to build a business in. In this blog post we will explain how you can find a niche and how to determine what the competition is for that niche.
The purpose of picking one specific niche is to become the specialist in that niche. Meaning that everyone searching for anything about that niche will first come to your site. This should generate a lot of traffic which you can monetize using affiliate programs, etc.
1. Select possible niche keywords
The first thing you need to do is to find a specific niche keyword that you consider interesting to make a site about. In most cases you would need a keyword phrase existing of 2-4 words. A few examples:
latex fetish porn
strapon porn
penis piercing
clit piercing
These examples focus on a specific niche. But we don't know yet whether these niches are already very busy with competition or that there is still room for a high quality player. Be creative and store every possible keyword phrase in a text file or spreadsheet. Consider this a little brainstorm.
Try to find a specific keyword. The more specific a keyword is the more likely visitors are to convert to whatever you have to offer them. And think about local versions of keywords, like in a specific language or focusing on a specific country or region.
It's better to have 25% of 5000 searches, than to get 1% of 100,000 searches. If you can get that in another language, that can work very well. Yes, English is a popular language, but maybe you can convert better with a niche in another language.
Finally, before you continue, have a little check on our website LiveJasmin and see if there are enough models showing up for your keyword. For example, if you try 'strapon' in the search box, you'll get quite a few models that have 'strapon' (in various forms) in their profile information. This means that you can easily send traffic from the niche site about 'strapon porn' to our live cam site and have enough models for a good conversion. Make sure to select the appropriate category from the dropdown (Girl, Mature Woman, Fetish, etc.) for the best search result.
2. Check the traffic potential for your keywords
Having a niche keyword does not mean you're finished. You first want to know if there is actually a demand for information about that keyword. Or better, you want to know if there are enough people who actually search for that keyword.
To find out if there is search traffic for that keyword, you can use the Google AdWords Keyword Planner This tool is free to use, but you may have to create a new account or link your existing Google account to AdWords (you can skip filling out your website name if you don't yet have one).
After you opened the Keyword Planner, Select "Get search volume for a list of keywords …" (the second option) and can paste the keywords that you collected in the previous step. Then click on the button "Get search volume".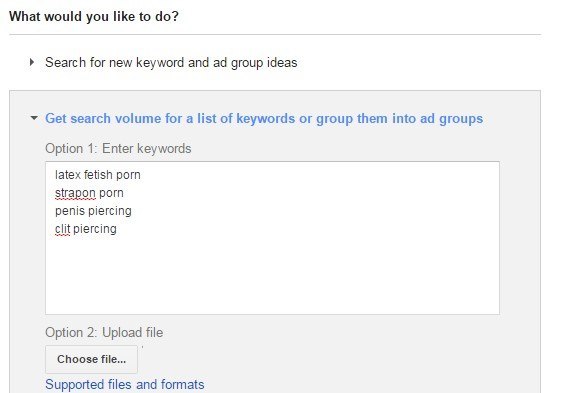 The result will give you already a lot of interesting information. You see the pattern of the traffic throughout the year and you see the search volume, which is the most important info we're looking for. The competition and suggested bit are used for AdWords advertising, but a low competition is AdWords generally means that there aren't many advertisers for the keyword. Which related to the competitiveness of the keyword in general. Or in other words, low competition is an indicator that organic search traffic is not with a lot of competition. Which is a good sign!
When it comes to the volume, you want a keyword to have quite a bit of traffic. The more the better you would say. And that's true. However, keywords with a huge amount of traffic will normally also have more competitors making it more difficult to rank well for.
Even though we focus on the exact keyword here, there will certainly be a lot more potential traffic because of the variations and combinations of keywords people use. For example, people may not search for "strapon porn", but instead search for "strapon sex". This is not the exact keyword, but it's related and will also bring traffic.
To make it viable with enough potential, try to find a niche keyword with least 3,000 – 5,000 exact matches per month. As you see three of the examples have a lot more and one has less.
Check the Keyword Filters for your settings and make sure the first one option is active. This will narrow down the number of searches to your keyword phrases only.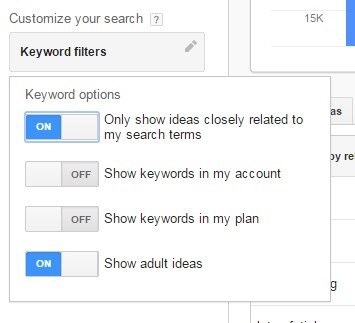 If you have been struggling finding a niche and keywords to start with, then the Keyword Planner can also help you finding related terms. Just play around with the first option of the Keyword Planner: "Search for new keywords and ad group ideas". You would have to deactivate the first option under 'Keyword filters' to get more suggestions. Only leave 'Show adult ideas' activated.
3. Check the Google competition
After you have discovered the traffic potential, it's time to check the competition in Google. To do that, you just enter your keyword phrase in the Google version that your niche is focused on. So, for USA, you use Google.com. But when your niche is focused on the German market, you use Google.de. (If you are not in the country of your focus, you might want to use a proxy (example: proxy USA to hide your physical location).
Put the URLs of the top 10 pages of your Google search in a spreadsheet. Now you have a list of 10 URLs with competitors for the first page in Google for your keyword.
For every URL in the top 10 you want to know the following data, coming from MOZ
Domain Authority: Indicates the ranking performance of a site. Score 0-100, logarithmic scale.
Page Authority: Indicates the ranking performance of a page. Score 0-100, logarithmic scale.
MozRank: Link popularity score. 1-10, logarithmic scale.
MozTrust: Link distance score. 1-10, logarithmic scale.
External backlinks (with link juice or 'equity'). Absolute number.
Total backlinks (with link juice). Absolute number.
To get this, you can fill out every top 10 URL in the Open Site Explorer but it's much quicker to use the MOZ bulk checker where you can add 10 URLs at once.

This table gives a good indication of the competition's scores. For this example keyword (strapon porn), you see that the DA (domain authority) is fairly high for most sites. But on the other hand, the PA (page authority) is not so high overall. Actually, a PA lower than 20 is not high at all. The MozRank number is also not too high with a maximum of 4 and most are 3 or lower. Finally, the number of external backlinks is even 0 for most pages.
The relatively low PA with a not too strong MozRank and low number of (external) backlinks means that there could be some potential in this niche, since the competing pages in Google do not appear to be very strong.
4. Find a matching domain name
After you have found a good niche keyword phrase with some room in the Google top 10, you want to find a matching domain name. Since a matching domain name does help with your ranking, you would like to have the keyword in the domain name.
To find one that is available (or for sale) you can use one of the WhoIs info sites, like DomainTools.
A search for 'straponporn.com' shows that this domain is already taken. But you can also see (in the right bottom) that the domain "straponporn.info" is still available (at the moment of writing). So, this would be a pretty good domain to use. But there are other options, like "straponpornblog.com". It depends a bit what you plan to do with your niche. If you are going to write a blog about "strap-on porn", this might even be the better domain.
5. How to make money with your niche site
Now you have selected a niche, you know what the traffic potential is for the exact keyword and you have found a good domain name. An important next step before you actually start, is to see if there is money potential in your niche. Getting traffic is nice, but you want to make money with it, right?
A little Google search will already give you a lot more information:
Search for products for sale you can offer that are related to your niche
Search for tube sites with videos about your niche with an affiliate program
Find live cam models who have something to do with your niche
Find image sites that have images you can share with an affiliate link
Find services you can offer as affiliate (like advice, consults, etc.)
Etc.
If you have found at least a few possibilities to monetize your traffic, you're good to continue. If you can't find anything that you can offer to monetize your traffic, you either have chosen a niche where there's not a lot of money going around or you have to dig a little deeper.
For our selected niche 'strapon porn', these would be good options for monetization:
6. What content to put on the niche site
The next thing is to figure out what to put on your site to get a good start with your niche. In general, it's a good idea to write original content in the form of a blog. It's easy to set up and easy to understand for your readers.
The goal is to become a specialist in your niche. Therefore, it's important that you create content that is not available anywhere else. So, the bottom line is that you think of as many as possible subjects to write an article about.
For the 'strapon porn' niche, you could write articles about:
History of the strap on
When to use a strap-on
How to use a strap-on safely
Strapon for lesbians
Strap-on with men
Different types of strap-ons
Things to pay attention to with strap-on
Guide to buy strap-ons
Reviews of strap-ons (if you can get a hold of them)
Reviews of videos with strap-on focus
Type of lube to use with strap-ons
Top 5 big size strap ons
Top 5 anal strap-ons
Top 5 lesbian strap-ons
Strap-on with vibrator. Hot or not?
Etc.
You will certainly find more subjects to write an article about when you do more research.
As you can imagine, these kind of articles will get you some recognition for this specific niche and, as a result, will get you traffic and probably also backlinks.
The success of your site is obviously not only based on the niche or domain name you have selected, but more about what you create, the quality, etc. Picking the right niche does help your chances to be successful, and that's what we've tried to explain with this post. If you have anything to ask or add, please leave it in the comments below.
-This was a great article on awempire.com  See more at: http://www.awempire.com/blog/tips-and-tricks/pick-the-best-adult-niche-to-boost-your-business#sthash.UUrpjvpW.dpuf