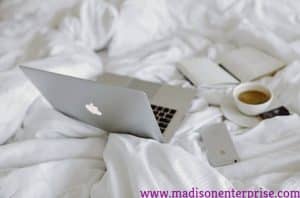 I am so happy that I work from home – now more than ever! A friend of mine who works in an office environment complains to me constantly about all the rules and regulations and policies that she has to deal with because we are in a pandemic.  The thing is, she does not work from home as I do.  I am so happy that I work with an amazing female owned company and as an independent contractor, I am self employed and decide every week when and where I am going to work.  I empathize for others that have to get up at the crack of dawn, stand on line to take a train or spend unnecessary time in traffic to get to work.  They have a set time to arrive at work and they can't revise their start and end time.  Their lunch is also set in stone and if they have to take care of a family issue or want to take a day off during the week, sometimes they are met with an attitude from their manager or HR personnel. I have no idea what that feels like because I decide what days I work weekly and can adjust accordingly if I have errands to run or to do things with the family.
Independence feels so good and I can say that this decision to manage my career the way that I want to have the work/life balance that I need is amazing. This is by far the best job that I have ever had and I have worked in office environments for decades. I don't even have to have clothes on if I don't want to have anything on and no one would ever know because I am in my own home and no one sees me.  I talk on the phone to people from all walks of life and all backgrounds and I get paid for it! That is amazing and I only regret that I did not join Madison Enterprise LLC sooner to work as a PSO.  I get to explore my creative side by writing amazing and sexy blogs that others read and enjoy and when I talk to repeat callers in addition to new callers, it is always a great experience when we connect on multiple levels.  I also love the professionalism that Madison Enterprise LLC has because this is such a classy company.
Every one treats each other with respect and dignity at the company and it is like we are all one happy family.  This is the place to run to if you are independent and you want your freedom and you want to be able to take the time – even if it is one or two days in the middle of the week to get outside and actually get a chance to stop and smell the roses.  I tell you, this is the place that you will be happy so don't delay, you need to stop what you are doing right now and apply at Madison Enterprise LLC today, by clicking this link: https://www.madisonenterprise.com/apply
Madison Enterprise
1-888-430-2010
Click WORK FROM HOME CHAT to chat with the phone sex operators!
 #pso #phonesexoperators#adultphoneline #selfemployed #phonesex #sexhotline #makemoneyathome #femaleowned #psowork #adultentertainmentindustry #workfromhome #kinkphonesex