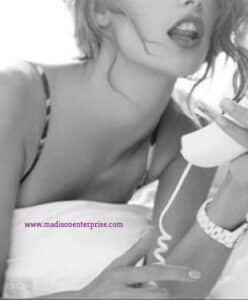 Make money with your voice and your mind.  Use your sexiness and kinkiness to earn extra income.  And all from the comfort of your own home, actually from pretty much anywhere for that fact.  All you need is a phone, computer and internet and you can make enough money to not have to work anywhere else if you so choose.
Let your freak flag fly and make money doing so.  Be your own boss, make your own schedules and have fun while in the process.  What's better than having fun and getting paid for it?  Exactly!
Being a phone sex operator for Madison Enterprises gives you the opportunity to log in whenever you desire.  Utilize your spare time or alone time to take calls and earn an income while you're at it.  Madison Enterprises is a female owned and operated business.  Everyone is family and treated as so.
You get paid weekly and your amount per call per minute will depend on how much you want to take on.  Whether you're looking for full time or part time work, everyday, or just here and there, this job is a perfect choice.  Everything is online and over the phone, so no need to worry about commuting, traffic or office space.
If for some unfortunate reason, moving around is hard on your body or you would rather stay in the safety of your own home, then being a PSO would be an ideal solution.  A job you make money with and none of the worries of an outside job or the stress of working a regular 8 hour job.
Just keep that voice healthy and your imagination wild and you will soon rake in the cash.  You will use social media and chat rooms to attract potential customers and once you build a clientele, you will soon reap the benefits.  Seduce them with your words, entice them with your sexy voice and make them yours.
Put that naughty mind of yours to work and make some money.  Put your talents to good use, don't let them go to waste.  And why not make some money off those talents.  Working in the adult entertainment industry can be a welcome change from the every day same ole same ole.
Add a little excitement to your boring day, take a break from reality for a bit and enter into a world of fantasy.  Let your imagination fly and your kinky side show.  And make some money while you're at it.  And all from a phone in your own home.
Working for Madison Enterprise LLC is a self-employment opportunity.  You decide how many hours you work and when.  Just make sure that you are available for calls when you are logged on.  Those calls are your money.  And making money is the goal.
So quit hesitating and take the step towards being your own boss and making money from your own home.  You can either call 1-888-430-2010 to see about applying or check out the apply now on all Madison Sites.
1-888-430-2010