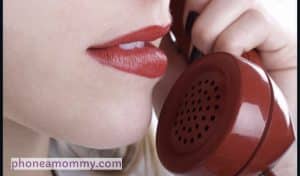 Are you bored at home and looking for a little excitement?  How about excitement that pays you?  That's right… You could work from home and enjoy yourself all at the same time as you make some extra money.  No time clocks, no cramped office space, no annoying interaction with tiresome customers or dead weight co-workers.  You can put your feet up and relax and use your voice to do all the work for you.
Set your own schedule and work as many hours as you like.  Late night last night?  Not feeling very motivated?  No worries, take it easy and log in when your ready.  You dictate when and for how long you want to be available for calls. You are your own boss.
Spread the word and build your clientele.  Pick from an assortment of characters and be either a phone sex mommy, a naughty diaper girl or any one of the tantalizing selection listed.  Madison Enterprises is a female owned and operated LLC.  Everyone is like family and any time you have a question or need advise, there is always someone available to talk to.
You can set up your own work load depending on how much money you are looking to make.  A few hours here and there or 24/7, your choice.  Remember you are your own boss, you will be considered self-employeed and you get to call the shots.  And your imagination gets to run wild.
Let your kinky side out, be the freak you know you are and nothing is off limits.  All fetishes are welcome here, so you will definitely get to use that naughty mind.  Make your callers fantasies come true and make them explode in orgasmic bliss.  Make a living making others squirt and cum.
I bet you never even thought about a profession using your voice and imagination to make others feel good.  And get paid to do it!  With https://www.madisonenterprise.com/apply you have that exact opportunity available to you.  So call 1-888-430-2010 today and spread your wings and fly.
Become a naughty phone sex operator and make money while you do it.  Set a weekly goal and strive to meet and exceed it.  You got this girl!  The world is in your hands.  You can choose to make this a part time deal for extra spending money or decide to make this a career and rake in the dough.
All you need is a phone, a computer and internet and you're all set.  And of course a healthy imagination.  If anyone has ever commented on how sexy your voice is or how perverted you can be or what a naughty freak you are, then this job would be perfect for you.  And no one would ever know it was you.  All play is through phone calls and/or text/chat.  No one sees your face and no worries about anyone knowing who the real you is.
So don't hesitate a moment longer and jump on the band wagon of fun and seduction.  Get paid to play!
1-888-430-2010
#moneyfromhome #selfemployeed #femaleowned #phonesexoperator