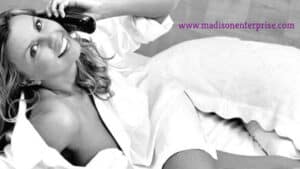 Are you tired of the same old same old?  Tired of working a dead end job?  If so. then this might be the perfect opportunity for you.  You can make money and work from anywhere you choose.  You just need a phone, a computer, access to wifi and a vivid imagination and you can change your life.
Working for Madison Enterprise as a phone sex operator enables you to work your own schedule, make money using just your voice and your mind, and do it all from the comfort of your own home.  Once you build up a clientele, you will start to see the money roll in.
Madison Enterprises is a woman ran and owned company, everyone is courteous and always willing to help if you have any questions.  You will get paid weekly to stay home and pretty much be your own boss.  All fetishes are entertained through the site and in calls.
An erotic mindset is a plus in this field of work.  And having a sexy voice is a definite plus.  And the clientele just love it all.  You can make money off pleasuring others with just your voice.  Positions available for part-time and full-time, your choice of your own hours and days.
And what's better than the convenience of doing it all from home, you could even just do it from bed all day if you chose.  No worries about driving to work, no need to get dressed up to go to the office, you can work naked if you so desire.
Put that mind and mouth to work and make money while doing so.  If you have ever been told you have a naughty mind or that you could make money in the sex industry then now is your chance to prove them right.  Use that kinkiness to your advantage and reap the benefits.
Work enough to make some extra money on the side or work enough to not have to work anywhere else.  The choice is all yours.  And you won't regret your choice to work for Madison Enterprises.  We are like a family and welcome you with open arms.
To find out more information about becoming a PSO (phone sex operator), you can check out the site here, click on apply or call 1-888-430-2010 and the dispatcher can help you as well.  Working for Madison Enterprise is fun and rewarding.
There is an array of characters available to choose from as your primary.  You will be online at times as well to bring in callers and to help build up your customer base.  Remember to always be professional and do not give out any personal information.
Get a job in the adult entertainment industry and let your inner freak run wild and earn money while doing so.  This is an opportunity for you to make money and relax from the stress of a dead end job.  Enjoy alone time at home with some calls mixed in here and there for fun.
1-888-430-2010