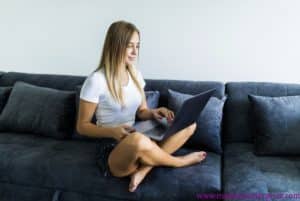 I am one of those people that you call a homebody, I really do not like to leave the house.  I turn down so many parties and other family events just because I don't want to be bothered and stay in the house.  I am not a people person at all in person but when it comes to talking to guys on the phone as a PSO, I absolutely love it. I can get sexual with them and roleplay a bunch of sexy fantasies all in the comfort of my own house in my bed and actually get paid for it! This is the best job in the world because I never have a bad hair day. It does not matter what I look like at the time or what I am wearing because it is not a video chat that I am doing – I am talking to sexy guys on the phone. I also love talking to the ones that want to be adult babies and they love having me as their mommy and I love that too.
I love roleplaying with different babies that are called adult babies and making them wear diapers and singing them sweet lullabies for them to fall asleep.  Another favorite of mine is to read them stories to make them feel that they have returned to their childhood and many of them feel so loved.  This job really makes a difference in the lives of many people that call because they may have lacked that necessary love and attention from a mommy and when they call me they get an opportunity to get that back.  The work that we are doing at Madison Enterprises LLC is really transforming lives and many people who call void and unhappy tend to become happier and feel complete when we speak.
And there are times in which an adult baby may not have the privacy that they need at the time but they still want to have that mommy experience so they will book a private chat session with me and we can text each other in privacy and utmost discretion.  I really enjoy my job at Madison Enterprise LLC and I would not want to work anywhere else.  Never ever having to leave the house and go outside and run into neighbors or strangers and when it rains or snows it does not matter at all as for me to go to work all I have to do is wake up and answer calls.  This is a woman owned company that I highly recommend that all work at that are women because you can be independent as a contractor and decide when you are going to be available to take calls or private text/chat.  The nonsense that I used to tolerate at an office job ran by a bunch of hypocrites, I don't have to deal with anymore.  I can finally breathe a sigh of relieve that I found the best job in the world that enables me to be me.
Join me at a company that has been successfully operating since almost two decades when other companies who have tried to do the same thing, crumbled and fell.  All you have to do is apply now:  https://www.madisonenterprise.com/apply
Madison Enterprise
1-888-430-2010
Click WORK FROM HOME CHAT to chat with the phone sex operators!
 #pso #phonesexoperators #adultphoneline #selfemployed #phonesex #sexhotline #makemoneyathome #femaleowned #psowork #adultentertainmentindustry #workfromhome #kinkphonesex #workingfromhome #madisonenterprises #phonesexoperatorwork