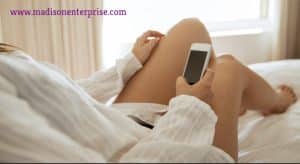 Are you looking to make a little extra income?  Or better yet, a good chunk of income?  And have fun while you're at it?  Then look no further, Madison Enterprise would be perfect.  You get to use your acting skills and active imagination to have fun while earning a living at the same time.
You are your own boss; you can make your own schedule and work from anywhere you choose.  All you need is a computer, a phone and internet.  And a sexy voice and naughty mind are a definite plus as well.  Use your skills to develop a clientele and a steady stream of income.
No one knows who you actually are, so you can have so much fun pretending.  And all from the anonymity of your own home.  No office, no commuting, no traffic, no pesky co-workers to deal with.  Instead, Madison Enterprise is a woman owned and operated business with friendly, lovely ladies that are always willing to assist with any issues or questions you may have.
You can choose how many hours a week you want to take calls, and whether you prefer full time or part time.  Your pay is based off of your calls, so you get paid commission as opposed to hourly or salary.  So, the more calls you take the more money you make.
This is a great job opportunity for those that are limited physically and health wise.  No need to have to be on your feet 40 hours a week, you don't even have to get out of bed if you so choose.  No pressure to perform a certain way, just have to do your weekly tasks and be available for calls when you are scheduled.
The freedom to lounge at your leisure is a definite perk.  And to get to use your kinky, wild imagination to make others feel good and get paid to do it, is pretty awesome.  Apply to become a phone sex operator with Madison Enterprise and get paid every week.
The adult entertainment industry has changed a lot over the years.  And with the way the economy is now a days, it seems to be a very popular choice for earning extra money.  And no one has to know, unless you tell them.
Make enough for extra spending money on the side or make enough to be a PSO only.  You decide.  So, again, come join a company where you can enjoy yourself daily and have fun making that mad money.  The exciting world of fetishes is at your fingertips.
Check out the site, sit back and sip your coffee, and think about the benefits of becoming your own boss.  And remember, you can do the exact same thing on the clock, relax and get paid.  Definitely never a dull moment in this business.  That's for sure!
So. pick up that phone and call 1-888-430-2010 to get the info from the dispatcher or check out the site and click apply and get the ball rolling on a new and exciting career.
1-888-430-2010