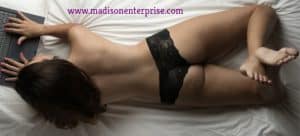 Do you have a dirty mind?  A bit of a perverted side?  If so, then cash in on that talent and get paid to be naughty.  Use your imagination and voice to stimulate and give pleasure, all from the comfort of your own bed.  You have free reign in your fetish play with your client/customer.
Be your own boss, make your own schedule and choose whether you want to do this part time or full time.  You can work any hours any time of the day or night.  All you need is a kinky mind, a sexy voice, a computer and a phone.  And then you build a clientele and start seeing the money come in.
You get paid every week to hang out at home and talk on the phone.  What better job is there to have?  And you get to use that imagination of yours even more so when you write yummy blogs.  You can be as creative as you want all from the anonymity of a phone sex mommy character.
Let that freak flag fly, pique your curiosity, stimulate your sexual prowess all while you make money.  Working in the adult industry can be quite exciting.  And at Madison Enterprise, the team of ladies you work and interact with during calls and for any questions or issues is awesome.
Being a phone sex operator (PSO) has its perks.  You get paid to just talk.  What more can you ask for? The benefits of an at home job where you do not have to worry about commuting, traffic or the price of gas.  Especially in this day and age.
An escape from the mundane, a chance to make others feel good and all from your living room couch if you so choose.  So, if it has ever crossed your mind in some way or another to use your voice to make money, now is your chance.
This female owned and operated company opens a new world of opportunity for you.  No daily hassles, no annoying co-workers, and flexibility around your daily life.  Make the most of you time and enjoy it while you can.  You have time to do all the things you couldn't with a regular job.
If you choose to do this part-time as a means for extra cash or as a 24/7 full time job, you definitely will reap the benefits.  And the more customers you troll, the more money you can make.  So come join the Madison Family and have some fun while getting paid to work.
There are a few ways to apply if you would like to do so.  You can call directly and speak to the dispatcher; you can click on the apply now or any of the options under the Work With Us column located at the bottom of several of the sites.
So. if you're tired of working that tediously boring job, check into becoming a phone sex operator today.  Won't take long for the calls to start rolling in and soon after the money.
1-888-430-2010