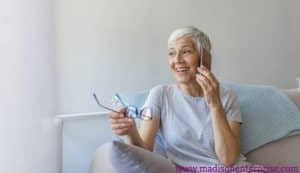 I have to say that I have had the opportunity to work most of my life and when I started I worked in male dominated environments where I was not understood and that was really an issue for me.  It is such a major difference working for a female -owned company and I am not kidding at all about that.  The difference is so clear that this is where I need to be.  To have the independence to work from home and male a salary that is equivalent to what I could make in an in-person office environment is so amazing to me.  Lots of times in the office environment type of environment you really don't have much of a say so.  But the difference is so clear working at home for a female owned company.  I get to take days off that I want during the week by setting my own schedule.
I don't need to have my hand held or be micromanaged and working with a group of amazing women who places the focus on amazing client service is exactly where I want to be.  For the first time in my life, I can actually look myself in the mirror and smile while I tell myself that I made the right decision by signing up as a PSOS to work at Madison Enterprises LLC. Do you have any idea of all of the folks who are absolutely miserable at the moment while they work their boring jobs?  Day in and day out they have to go through the same routine, day after day or night after night like robots.  No fun, no sun and all they want to do is run – far away from their jobs because it is monotone with no fun or excitement.
Not at my job, as every single day it is a new adventure, it is experiencing the unexpected and the unplanned. No  one or two days are ever the same. but what you can count on is entertaining and being entertained at the same time.  Where else can you get sexy, use profanity, spank someone, yell at someone and on occasion accept tips from clients as well, where you get to keep all of your tip! Look no further to work at other phone sex operator companies as Madison Enterprise LLC has got all that you need to start your career as a successful phone sex operator.
It is really easy to apply once you decide that this is what you want to do.  So, don't be shy, the phone sex world is waiting for you, so I urge you not to disappoint.  I mean, how long do you need to really think about this until you make the next step wards being an amazing PSO? I mean it is a win-win, there really is not that much to think about – because it is simply common sense!  Apply right now and apply at Madison Enterprise LLC today, by clicking this link: https://www.madisonenterprise.com/apply
Madison Enterprise
1-888-430-2010
Click WORK FROM HOME CHAT to chat with the phone sex operators!
 #pso #phonesexoperators#adultphoneline #selfemployed #phonesex #sexhotline #makemoneyathome #femaleowned #psowork #adultentertainmentindustry #workfromhome #kinkphonesex