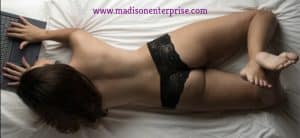 Become a fetish phone sex operator and earn a little extra income each week.  You can choose to do this part time for some extra spending money or full time and build up a clientele and see the money come rolling in.  Best thing about a profession in the adult industry as a pso, is that you can do it all from the comfort of your own home, you don't even have to leave your bed if you so choose.
Just need a reliable phone and computer and wifi and you're all set to get started in the business.  And an active imagination definitely doesn't hurt when it comes to writing attention grabbing blogs.  The more interesting the better.  Let that kinky mind of yours run wild and bring all the perverts out of the woodwork.
There are so many characters to choose from.  You will get a chance to use that sexy sultry voice of yours to make others feel so good.  Working as a phone sex operator for Madison Enterprise is a fantastic opportunity, especially in these times of epidemics, crisis, and job shortages.
You can choose your own hours and work at your own pace.  Just make sure if you're scheduled, you are available for calls.  Depending on your choice of workloads, depends on your commission of each call you bring in.  Stories in the forum and popping in and out of chat rooms to interact with potential customers is a great way to bring in the calls.
And writing blogs, let's you put that imagination and mind to good use.  A mind is a terrible thing to waste.  And we don't want you wasting away.  So come join the Madison family and keep that mind sharp.  Definitely a good outlet for those times you get bored and have nothing exciting to do.
And just imagine the power you feel when you control someone else's orgasms.  Making them cum quickly or making them beg to finally get to cum, your choice.  You decide.  You're in control of it all.
Just like with every other aspect of this job, you are the one that decides.  You are technically your own boss, and you make your own rules.  As long as you follow the guidelines entailed with your position.  The company is female owned and operated, and everyone who works for Madison Enterprise is very helpful and courteous.
Check out the site and all the sister sites to get an idea and then contact the company to join the family.  No contracts, no obligations, just have fun and earn some money while you're at it.  The exciting fetish world is waiting for you to jump aboard.
In this day and age, there is definitely nothing better than the opportunity to work from home and make a living doing so.  And why not liven it up with some sexual entertainment.  And have a good time while you're at it.  I promise you definitely won't be bored in this profession.
1-888-430-2010