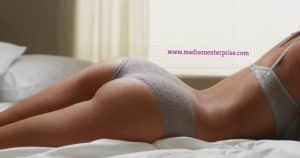 I have not left the safety and comfort of my home all day, and the best part is – it is going to be like this all this week and the weeks to follow. The reason that I am able to love my life the way that I want and not have to leave my bed for hours and still make an income is because I am an independent contractor that works from home with Madison Enterprise LLC.
I can order up Door Dash, UberEats and even my groceries with Instacart and don't ever have to leave my home. My fellow neighbors have to make a trek to and from their office jobs every day and deal with crime ridden trains and buses all when I relax at home and talk to amazing guys and gals on the phone as a PSO.
PSO stands for Phone Sex Operator and I am very proud of this profession.  There is nothing degrading or shameful about talking to fascinating strangers daily and sharing our experiences over the phone.  No matter what fantasy that comes to mind, I look forward to making sure that I walk with the caller through the entire fantasy and we would chat until we are both satisfied.
I remember the first time that I ever heard a man orgasm on the phone after an erotic phone session and it was absolutely delightful. I love the start of the call when my caller was so shy that I practically had to almost pull teeth for him to talk; but when he warmed up to me, that was when all of the inhibitions came out.
I was able to feel so proud to make a man cum and the best part was when he thanked me and told me that he would call me back really soon. I know that a lot of people say that they are going to call back and they don't but when my caller called back and we played again, this was something that I was pleased with.
It is something that does something to my ego to hear a man scream out my name as he is at the point of ecstasy. I love being in control of it all and being able to understand that every caller is different and not everyone wants to have sexy conversations. Sometimes, callers are lonely and just want to talk and I am so happy to be that person on the other end of the phone line, that a caller needs.
I know what my calling is and it is to be a PSO, who works for an amazing company that is female owned. So many people can't say they love their jobs the way that I do, so this is why I am sharing this secret so you can apply and work at Madison Enterprise LLC also as a PSO. Give it a try, this is a job that does not require a Covid-19 vaccine jab and it is a schedule that you arrange.
Click the below link that says Madison Enterprise to apply!
Madison Enterprise
1-888-430-2010