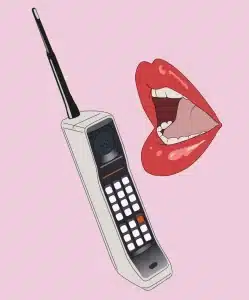 With a pso job from Madison Enterprise, you can do it all from the comfort of your own home.  You don't even have to get dressed if you don't want to.  No one will see you, no one will know.  You can work from any room in the house or even from outside.  All you need is your phone and an active libido.
The best part about working as a phone sex operator, is that you can do as you please and wear anything or nothing you want.  Your home is your office and you are your own boss.  You make your own schedule and you decide everything.
The only things needed to earn money with this company is a computer, internet and of course a phone.  And it definitely doesn't hurt to have a sexy voice and naughty imagination either.  All fetishes are allowed in this profession with this company.  So, you will never be bored, that's for sure.
Earn money from the comfort of your own home or anywhere you choose to.  The luxury of being with Madison Enterprise is you are not limited to any one place.  As long as you have your phone and it's on, you can make money.
Phone sex jobs are criticized and laughed at, but you can make good money if you give it a chance.  Once you build a clientele, you will start seeing the money pour in.  You can choose to do this full time or part time.  If you're just looking for a little extra income during you time off, this job works out great.
You choose when you work, what days and what hours.  This is a female owned and operated business with many affiliated sites, so there is a never ending supply of callers.  From diaper lovers to mommy fetish lovers to more extreme fetishes.  Have you ever wondered what it would be like?  Now you can find out, all you have to do is apply and go from there.
Satisfy that curiosity and give it a whirl, and earn money while you do it.  The adult entertainment industry has come a long way over the years.  Everything is anonymous, nothing about you personally will be known.  if you choose to work for Madison Enterprise, you will have a choice of characters to choose from, with pictures you can utilize.
And what other job gives you the opportunity to get in touch with your kinky side and make money off your perversions.  So, apply now and put that voice and mind to work and let the money start rolling in.  The ladies here are all very nice and will answer any questions you have.
We might work alone from our own homes, but we are a team and a family.  You will not have to worry about anything.  They will work with you on any personal issues or any time off needed.  So, hesitate no longer and get started on applying for a dynamic job as a phone sex operator.
1-888-430-2010