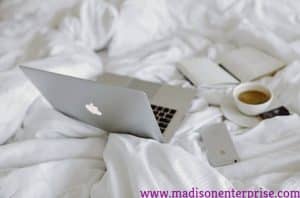 Are you looking for a new career, a different job opportunity or just for something to make a little extra money on the side?  If so, then Madison Enterprise would be perfect for you.  You can set your own schedule and work right from home.  As long as you have access to the internet and a computer and phone, then you're all set to dive in and become a phone diva.
Use your sexy voice and naughty imagination to make money.  Develop a clientele and keep the money rolling in.  Madison Enterprise is a female owned phone sex business that has been operational for more than a decade already.  There are great women who are always available to help you and answer any questions you might have.
There's nothing better than working from the comfort of your own home, especially in these Covid times.  No need to rush to the office, no need to even get dressed, if you so choose.  No traffic to deal with, no hassle from annoying co-workers and no cramped office space to deal with.
Let that dirty mind run wild and make some money while you're at it.  Lots of characters to choose from, to make your own and earn a living from.  Make sure to check out all the site has to offer, to be able to know what you want as a phone sex operator.
All you have to do is get the courage and make the leap.  The rest will fall into place as you go.  There is a selection to choose from, on how much work and time you are looking to invest in a possible career in the sex industry.  With this job there are no worries about all work and no play, you can do both with Madison Enterprise LLC.
Enjoy your job and let your inner nympho out to play.  And with this job opportunity, you can pretty much work from anywhere.  Make money and still have a life.  No unnecessary drama or mind-numbing boredom with this job.  Join the Phoneamommy family and have fun while making money.
Go to https://www.madisonenterprise.com and apply.  Make sure to follow all instructions to complete your application and get started as a phone sex operator today.  Don't worry about whether you have prior experience or not, the company and the folks who work for Madison will gladly help and train you.
Don't let the idea of working in the adult industry scare you off, embrace your inner naughty girl and make a living indulging in other's fetishes.  Be the best phone sex operator you can be.  Don't hesitate long and come join us in all the fun.
And remember they only hear your voice, so you don't have to worry about feeling self-conscious about your looks or what you're wearing.  Didn't brush your hair or put on make-up?  No worries, no one will ever know.  Don't feel like getting up out of bed?  It's ok, with this job you can work from anywhere.  So, call today…
   1-888-430-2010