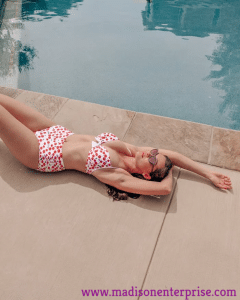 I can't speak for other jobs, so I won't – I will simply speak for mine as it allows me the opportunity to work from the comfort of my own home and that includes – poolside! Yes indeed ladies, this is the job that you have been waiting for all of your lives as it gives you a freedom that you never thought was possible.
I am fortunate to be blessed with a beautiful house, and the ability to talk to great guys and gals from the comfort of my own home's pool is such a blessing. And when the talks become hot and erotic that serves me just fine as I have all of the comfort and privacy that I need to carry on with sexy conversations.
Women have wanted to be independent for years and to be able to work for myself for a women owned company is like the icing on the cake.  If I get a little hot and bothered when talking to someone on the phone, that only further enhances my conversation because I can stimulate myself by slipping my fingers under my swimsuit and no one will be none the wiser.
This jobs pays me well and allows for me to enable the creative and sexy side on me to grow and I get to add so many great ideas to the fantasies that I had in my mind and when I hear of other fun and sexy things it is like a wonderful learning experience for me and for them also.
You are hired as an independent contractor when you work at Madison Enterprise LLC and I love that so much as I am actually working for myself.
I don't have a boss hounding me every single second, looking over my shoulder and I absolutely don't have to travel anywhere or file any silly folders in cabinets either. It is just me, my imagination and wonderful clients on the phone telling me their fantasies and their deepest and darkest secrets all in an anonymous setting.  These days discretion is a must and clients should be able to come home and call me after a terrible day at work and I should be able to have the freedom to make them feel better and that is what I do.
And the best part is, you can do the same thing too. Gone are the days of traditional work of clicking in from 9-5 in a place that you hate with coworkers that you can't stand but you have to force a smile and pretend. Now you are in charge of your destiny and you are the one that call the shots. So stop being shy and try it out, it is such a pleasure to not have to leave your house to make a paycheck and these days things are just not so safe out there in public spaces.
You see the news all the time and it is not pretty what happens when people are assaulted just by commuting to work by some nut job. So, ladies give this job a try and you will see how freedom feels when you are the pilot of your own plane. All you have to do is apply, have a great voice and a working phone line to take calls in a private place at the comfort of your own home, no special degrees from high school or college will be required. So, what are you waiting for? Click here to apply!
Madison Enterprise
1-888-430-2010