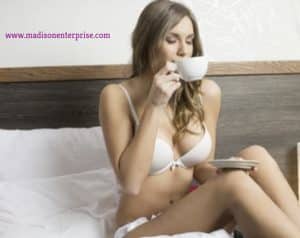 I set my alarm clock for the set time that I determined I will work that day (as it is up to me what hours I choose on my schedule) and then I crawl to the kitchen and grab my coffee to prepare myself for my day.  I sincerely look forward to waking up in morning and never ever having to leave my house is such a great perk for me.
I absolutely enjoy staying in whatever I choose to wear, whether it be underwear, a robe or even pajamas while I log into take calls right from my very own bed! How many people can say that they wake up, grab their coffee and remain in their underwear while they talk to people from various parts of the world as they work a phone sex operator?  I truly love what I do as I work for a female-owned company that has been around for decades.
If you are good at what you do, you will stand the test of time and that is exactly how I feel working at Madison Enterprises LLC as a PSO. It is not really a hard thing to do if you already possess the skills necessary to be a phone diva.
Some people search the internet and ask the question how to become a phone sex operator and lots of hits usually come up.  Some places do not respect the girls and some are male owned and they may not be able to relate to the operators – who are usually female, that work the phone lines.  It is a good feeling, a sense of belonging as if I belong to a special girls club or a family when I work at Madison Enterprises LLC as an independent contractor.
I actually look forward to going to work which is a million times better of my former job and there is an inner joy and happiness I get when I speak to callers on the phone.  I am a talker and I have a lot to say and I am also a great listener.  I have a great set of listening ears to when callers reach out to me to tell me about how their day was or to vent or to just share with me their sexy thoughts or secrets.
The term "Phone Sex Operator" should not have a negative connotation attached to it because there are a lot of people who need to share their lives on a regular basis with us "phone friends" and there is absolutely nothing at all that is wrong with that.  It is amazing that I actually feel alive when I do this job because I am actually self employed and working for myself.
Remembering callers by name that I may not have spoken to in a while and letting them know I recall what we talked about is a great plus that makes my callers feel really special. Try this job and see for yourself, it is so very easy to click this link and apply right away: https://www.madisonenterprise.com/apply/
Madison Enterprise
1-888-430-2010
Click WORK FROM HOME CHAT to chat with the phone sex operators!
 #pso #phonesexoperators#adultphoneline #selfemployed #phonesex #sexhotline #makemoneyathome #femaleowned #psowork #adultentertainmentindustry #workfromhome #kinkphonesex